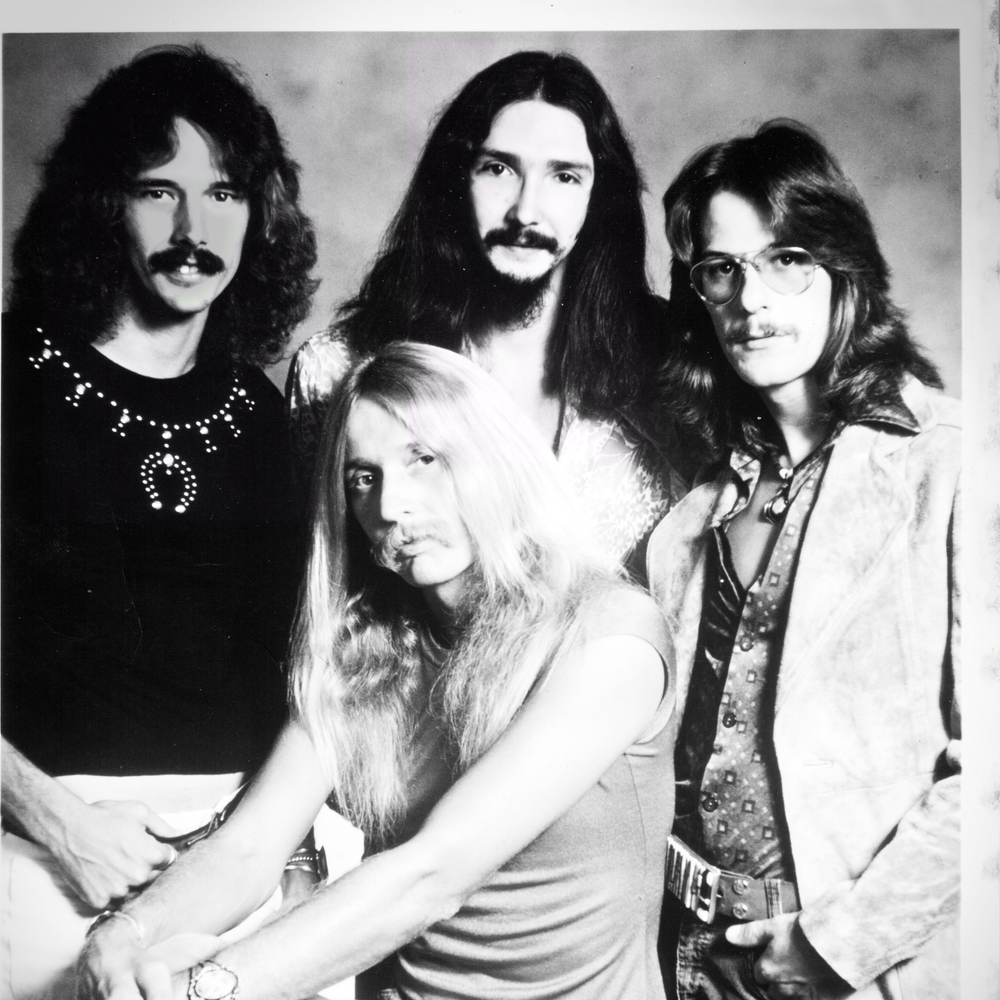 Heathcliffe
Mark Crowell (Front-center)
Mark Crowell, lead singer and supreme frontman of the popular Phoenix Group Heathcliffe passed away March 2nd, 2019 at home, surrounded by his family in Diamond Bar, California. Mark has always been my best and most personal friend. Mortality is indeed a sad and brutal state of affairs.
Mark and I met at Cortez High School as teenagers and would idle away in class drawing pictures and sharing ideas of how an ideal rock band would be composed. One vocalist…? Two guitars…? one guitar and keyboards…?
Eventually we agreed that the Led Zeppelin format of four strong individual musicians was  ideal. Unfortunately I was facing the draft, enlisted, and upon returning from a tour of duty in Japan we were finally able to bring our dreams into reality.
In order to develop the act Mark and I rented a two story band house with a basement and preceded to lock ourselves underground for a year and a half with Bassist Richard Jones and Drummer Wayne Wendorf.
Rock and Roll performance was still a fairly novel affair so we decided to play for anyone, at anytime, anywhere. Mark thought of it as good marketing. There were no DJ's yet and every high school had after game dances that hired rock bands.
Instead of taking the top 40 cover band approach and pursuing the bar scene we stayed true to our ideal of presenting original material.
Although we were no strangers to the bar scene we opted to play all over Arizona, in particular every Native American Reservation, Universities, Colleges, small towns and of course… the renown Arizona Desert parties. These parties were huge forerunners of the Burning Man concept. Phoenix was still not a large city and with ample surrounding desert areas weekend parties grew exponentially.
Picture 5 to 15 thousand young people, ten or more rock bands with generators and many multiple kegs on ice. Flyers were passed out by Thursday with dirt road directions. Half the crowd simply camped or slept in their vehicles. Bonfires were strategically placed and freely shared barbecues wafted the air with an incredible hard rock ambience.
Those who went home in the morning came back out in the early after noon. Everyone was discreet, bands provided their own security and in all the times Heathcliffe performed… no one was ever hurt. It was a very different, more humane time living in America. When the police did show up they helped out, enjoyed the music, had a bite to eat, and safely directed traffic.
In this way Heathcliffe developed a huge Arizona following. Audiences grew ultimately to the thousands. 7k at Phoenix College - 5k at Big Surf - 20k at the Phoenix Convention Center. The last private house party Heathcliffe performed at prior to touring the Western United States marked the end of an era.
This was a small 3 bedroom track home in a residential area. Three thousand fans invaded the neighborhood that night, the police were called… and we were informed that we had been on their radar for some time… oh, and no more parties.
Mark, my friend, you meant so much to so many - you are sorely missed!